Doll dress made of thick cotton with a polka-dot pattern


Dress made of thick cotton with a polka-dot pattern. The dress is lined. The model is made with raglan sleeves, and this dress has such a style that, together with beautiful accessories, it looks charming. The sleeves are made in the form of a puff sleeve. The neck has a V-neck.
Cotton fabric is thick, so the dress is very lush. A belt with a large white plastic buckle gives completeness to the image. You can remove the belt. It allows not to wear a petticoat. It is a separate item attire.
Earrings with black and white stripes match the color of the dress and the belt together. The fittings on the white metal earrings go well with other accessories.
You can put this dress on for a walk at the flowering of cherry blossoms in Japan or the botanical garden.
White leather shoes with extensive bow ties and a round leather handbag will be an excellent complement to the look of a cute and romantic girl.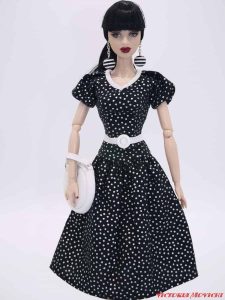 Main colors:
Suitable colors: