Gray jersey dress for Fashion Royalty dolls
Doll Clothes Collections
---
Thin knitwear for this style of dress is the best fabric. The fabric of light gray color is suitable for various types of screen tones of girls.
Decorations made of matte stone are well suited to a light gray dress. Bracelet made of sparkling beads looks beautiful and bright.
This dress is suitable for a walk along the promenade on a summer evening or dinner with friends.
Soft draperies at the waist will add femininity to any body. And the more subtle beautiful doll Fashion Royalty.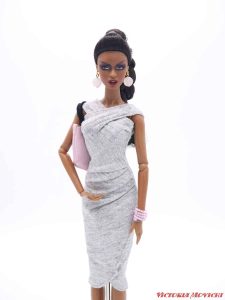 Main colors:
Suitable colors: