Rare deep pink genuine leather shoes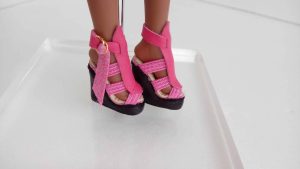 The design of the upper part is made in the form of roman sandals. And the creation of the lower part has the shape of wedges shoes. Contrast deep pink and black colors accentuate the doll's elegant foot.
The shoes are easy to put on and take off. It's made of genuine leather. The boots have an ankle strap with metal "gold" clasps. This ankle strap is more durable than a faux leather one. These shoes are suitable for walking along the promenade. Your doll will always be stylish and gorgeous.
A bag of the same deep pink color with large handles and a bow in front fits well with these shoes. Chains on a bag of gold color complement the whole image. You can also choose a dress in a fashionable style of jersey.
Shoes main color:
Suitable colors: